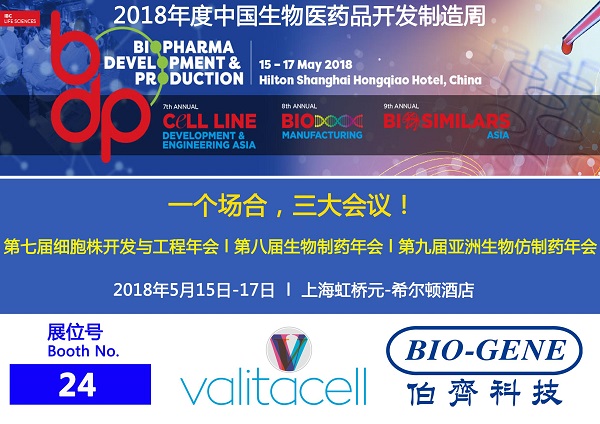 Biopharma Development & Production Week (BDP) 2018
is coming! This industry event is an important platform for biopharma industry professionals and scientists in China. 7
th
Annual Cell Line Development and Engineering Asia conference, 8
th
Annual Biomanufacturing Conference and 9
th
Annual Biosimilars Asia Conference. With 3 co-located conferences, 70+ speakers and over 60 technical and commercial sessions. The conferences aim to promote exchanges and learning in the industry, demonstrate innovative development and promote the establishment of business contacts. BDP China 2018 will bring latest development and trends in the biopharmaceutical space. Bio-gene is looking forward to meeting you in Biopharma Development & Production Week (BDP) at the Hilton Shanghai Hongqiao Hotel on May 15
th
-17
th
, 2018!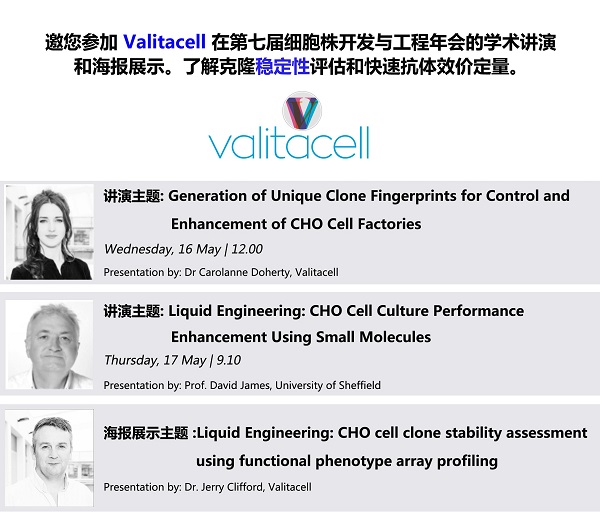 Bio-Gene will join hands with Valitacell in Ireland to participate in and sponsor this exhibition. Dr. Carolanne Doherty and Dr. Jerry Clifford from Valitacell, Prof. David James from University of sheffield will give seminars and present the poster respectively. Welcome interested scientisits and researchers to attend!
Bio-Gene will also show the company's flagship products on booth 24 during the conference: Valitacell, German BMG Labtech Multimode Microplate Reader, French Bertin InCellis
Smart Cell Imaging System
, and Cell
3
imager from SCREEN company. There are special sales and technical personnel to demonstrate the operation and answer questions. Welcome the broad masses of scientists and researchers to visit the booth 24!