On May 27th, with the assistance of the Mr. Oliver Keynon, the CEO & application scientist of Apogee Flow System, the Apogee flow cytometer A50-Micro Plus was successfully installed in The Institute of Translational Medicine, The Second Military Medical University.

Invited by Bio-Gene Technology Ltd, Oliver carried out a 16-day visit in China from May 18th to June 2nd. In the meantime, Oliver and Bio-Gene Technology had lots of discussion about the marketing strategies and after-sales service and finally reached a consensus in how to facilitate and execute the sales & marketing plan for Apogee flow cytometer in China. This further enhanced Bio-Gene's strength and confidence as the exclusive distributor of Apogee in Greater China market (including mainland, Hong Kong and Macau).With the positive development of Bio-Gene Technology, the most high-end Apogee Micro series flow cytometer were installed in The National Institute of Metrology, Institute of Microbiology, CAS and the Second Military Medical University. Besides, through Bio-Gene's professionalism, the Apogee flow cytometer obtained the recognition by most of the exosomes and small particles researchers in China. Mr. Oliver Keynon expressed his high appreciation to Bio-Gene's marketing work.

As the raise of hot research topics in exosomes, microparticles, microbacteria, virus and nano materials drug carriers, the significance of these small particles become more and more important. However, most of the flow cytometer in the market are designed for cells, and the detection limit of scattered light is usually around 300nm-500nm, they cannot detect small particles below 300nm in diameter generally. While, Apogee flow cytometer can detect particles as small as 80nm. It is the only flow cytometer which can detect particle with the size less than 100nm in the market currently. It also be assessed as the most sensitive system in detection of microparticles (<100nm) by European Association of National Metrology Institutes (EURAMET). The A50-Micro's main application includes the field of cell particles, exosomes, and microbiology, multichannel fluorescence detection and monitoring of immune cells.

Based on the superiority of Apogee flow cytometer on detecting microparticles such as exosomes, the researchers of Institute of Translational Medicine, Shanghai Second Military Medical University choose Apogee latest A50-Micro Plus for studying exosomes. Oliver and Dr. Chen Lianbing form Bio-Gene Technology gave the installation, training and lectures of A50-Micro Plus in the Institute of Translational Medicine in May 24-27th. When the equipment was installed, the researchers of the Institute of Translational Medicine and other research institute had come to test with microorganisms, nano drugs particles as samples, they were very satisfied with the detection sensitivity of the Apogee flow cytometer. Besides the superiority of the product itself, Bio-Gene technology also provides customers with comprehensive after-sales service, and committees to provide one-year free warranty service and occasional training services, these make our customers have no worried.
For more product information, please visit the official website:http://www.bio-gene.com.cn/
Mr. Oliver Keynon is installing the A50-Micro Plus in the Institute of Translational Medicine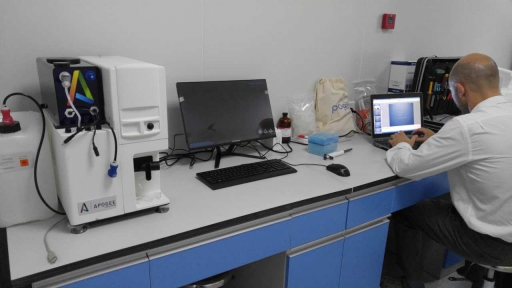 Mr. Oliver Keynon was giving an operation training about A50-Micro Plus in the Institute of Translational Medicine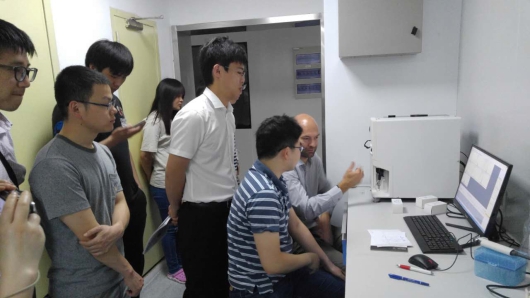 Mr. Oliver Keynon was giving a lecture about Apogee flow technology to researchers in the Institute of Translational