To provide more professional and high quality after-sales service, Bio-Gene was invited by BMG Labtech Head Quarter to attend the BMG multi-mode microplate reader product training in Germany. After this training, Bio-Gene was awarded the Certificate of Completion which proved that Bio-Gene can provide professional service for all product lines of BMG microplate readers.

Founded in 1989 and headquartered in Offenburg, BMG LABTECH is a leading developer and manufacturer of multi-mode microplate reader, providing many measuring methods and advanced detection technology which can be integrated with liquid handling equipments. BMG LABTECH listens to the customers' demands all the time and keeps making improvements on their readers his products which helps BMG LABTECH innovates many patent technologies in the multi-mode microplate reader market and earn very good reputation. Thorough the past 25 years, BMG Labtech has several first innovations in the multimode plate reader market:

· The 1st Multimode plate reader with fluorescence polarization detection
· The 1st 384-well plate laser base nephelometer
· The 1st plate reader with high performance luminescence module
· The 1st cell analysis fluorescence reader with multi-channel pipettor
· The 1st multimode reader with Ultra-fast spectrometer technology
· The 1st multimode reader equipped with LVF monochromator which provide filter like sensitivity and monochromator like flexibility
Bio-Gene Technology Ltd. is the exclusive distributor of BMG LABTECH in Mainland China, Hong Kong and Macau. Our goal is not only just providing customer the best multimode microplate reader, but we also committee to provide the best after sales solutions to our customers. If you are the users of BMG microplate reader or interested in the readers, please contact us any time and we will provide the best service for you!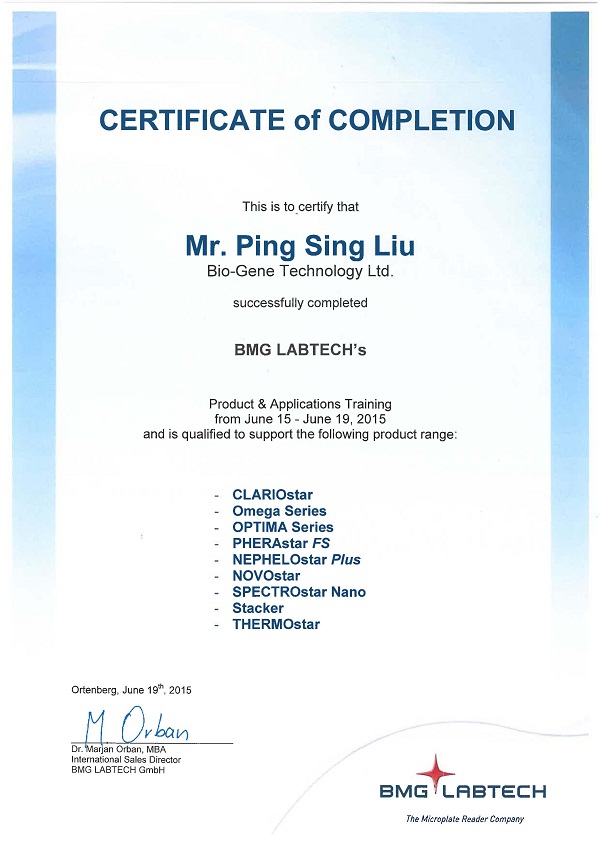 Group photo of training